Bondage Haize Part 3 | Emma Haize
Nov 1, 2014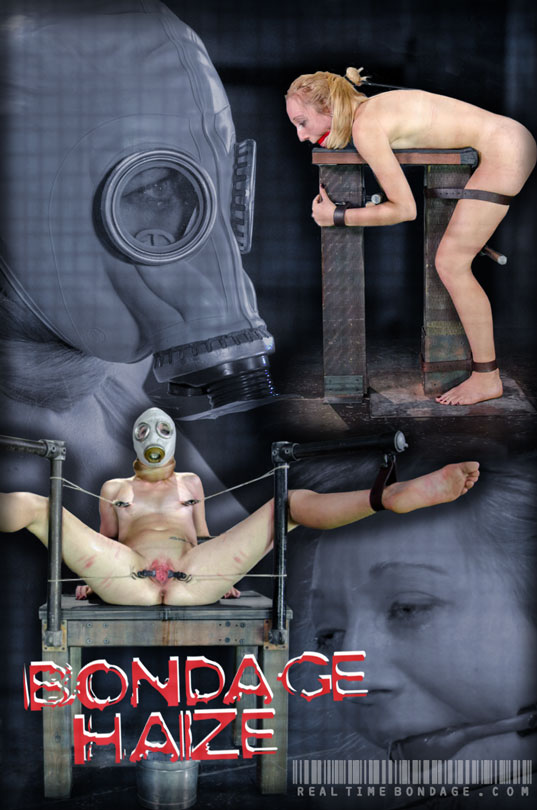 It starts with gas masks and tight clamps and ends with nothing but tears and soft sobs. Emma Haize is wrapping up a brutal live feed and the grand finale is something you won't want to miss. We completely break this girl, giving her everything she can handle and more. Pussy torment, fucking, and a caning that triggers an out of body experience? Where else are you going to see this level of BDSM?

It's too much dick for Emma to handle. Jack Hammer has 10 inches of big, black cock and every bit of it is buried inside of her, tearing her tight little pussy open like it's never had anything inside of it before. It's absolute agony, but at the same time she can't get enough of it. Feeling this full is something she wasn't prepared for, but she could get used to it.

The other forms of torment are far worse. Our crew is under strict orders to give her everything she can handle before the end of this live feed. Members like to see a bit of tears in a girls eyes so they can be sure she's had enough. Emma takes such a brutal caning that hers go completely vacant. She is so far into sub space that she has completely left her body. Small moans and sobs escape past the ball gag in her mouth but she is barely reacting as bruises and welts start to rise on her ass.
Bondage Haize Part 2 | Emma Haize
Oct 18, 2014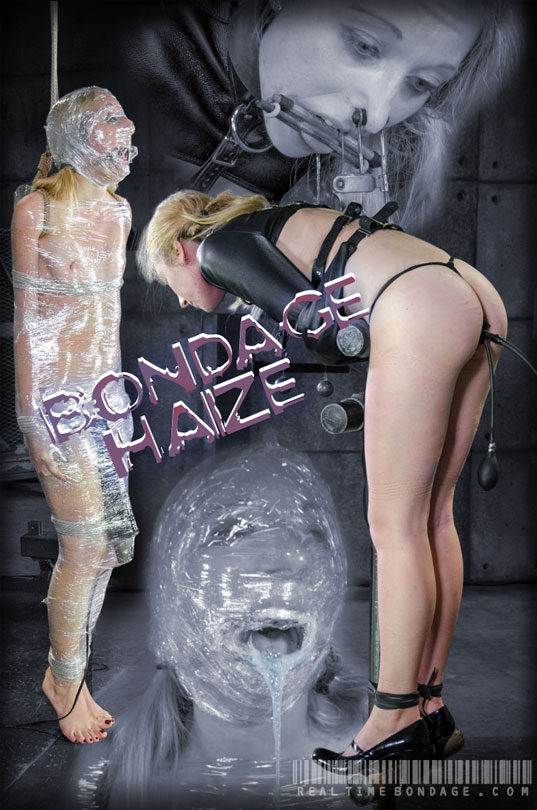 Blind. Bound. Gagged. Emma Haize agreed to the live feed, having seen what happens already. But every show is unique. We have so many viewers tossing out ideas and each model inspires her own set of torments. For instance, it's been a long time since we broke out the plastic wrap, but this was a wonderful opportunity. She's got a air hole, which is good considering all of her moaning.

The thin sheets of plastic hold on to her as tightly as rope or metal ever could. She probably thought she'd be able to break free if things got a little too rough, but when the whip gets her to start struggling she quickly learns that the material is far stronger than it looks.

She only gets out of it on our terms. Those terms include a leather straightjacket, an inflatable butt plug, and some breath play with one of our favorite gas masks. There's a lot we can do with all of the toys we have in the studio. We even have a couple of nice iron devices to lock her down into, just to keep her perfectly placed for the fun.

It's a long day. Unfortunately for Emma, there is still part 3 of this live feed coming up. And the best part is always the grand finale.
Bondage Haize Part 1 | Emma Haize
Oct 11, 2014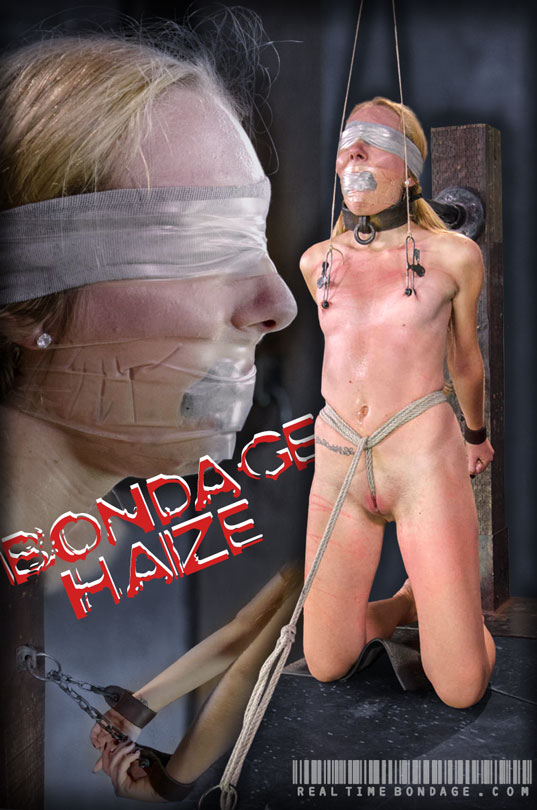 Emma Haize came back for a little action of her own. Seeing what we put Emma through before left her longing to do a live feed where she could be the center of attention. It's a magical thing for her, knowing that there are so many men watching her, waiting to issue their commands over the Internet. Something about the risk involved makes her... excited.

Of course, really turning her on takes a bit more than some anticipation. It takes rough bondage, heavy corporal punishment and some serious predicaments. Put her into full lock down and Emma is almost ready to explode with orgasm, hardly any real effort required. Push her a bit and she'll cum readily, whenever you want. So you know that when the Crew gets their hands on her she is going into full BDSM-overload mode, pretty much instantly. Metal, rope, leather, clamps, everything that can be used to hold a girl down is coming out of the wood work, held in some of the most talented hands in the business. If this isn't enough to make her reconsider her eagerness, nothing is.

Spoiler alert: Emma doesn't just endure, she's ready for more. And it's a good thing, because these live feeds aren't over in a matter of seconds, they are all about seeing how long a girl can last and how much of hell she can go through. We're just getting started.
Emma 2 Part 3 | Paintoy Emma | Emma Haize
Aug 9, 2014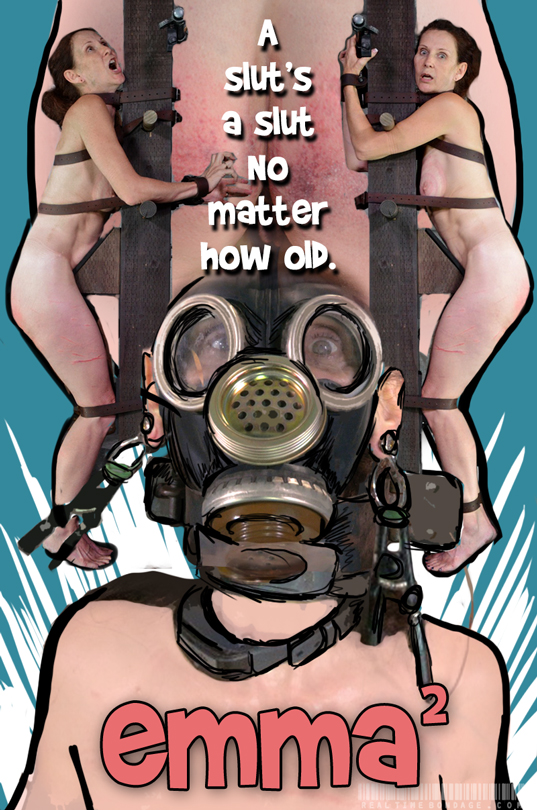 Everything is always worse when you barely have the breath to scream. Just ask Emma, who is currently trying to get a little air through the old school gas mask we have covering her face. It is making the electric shocks going through her pussy that much harder to deal with when she has to struggle for that calming deep breath she uses to center herself.

But there is more than one way to skin a cat, or choke a slut in this case. For instance, we aren't exactly shy about cramming Mr. Pogo down her throat until she starts to gag. She barely has the wherewithal to thank us for the attention, since she has been through so much today. Live Feeds are never easy and this is part three of one of our more brutal offerings. Something about the look of Emma just makes us feel like it is OK to push her to her limits.

We're not the only ones, either. Our members have never been the nicest bunch, always offering up their best ideas for how to make our bound beauties scream. Everyone brought their A-game and the only one who suffered for it was the slut who signed up for it. It's the exciting climax of an especially evil day, and you don't want to miss it.
Just Right | Emma Haize
Aug 8, 2014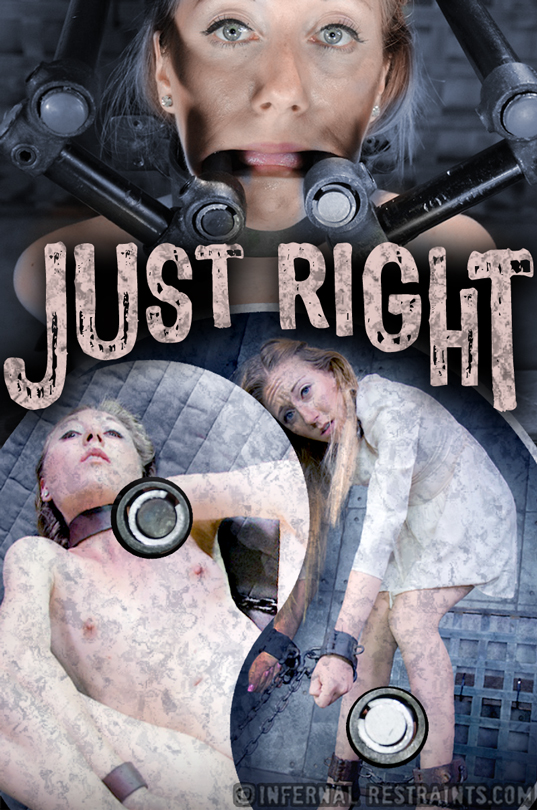 Here is what Emma Haize brings to the table. This hot blonde is sporting a pair of tits that scream "touch me", a pretty little pussy begging to be fucked, and a love of bondage that speaks for itself. She doesn't hesitate for a second when it comes to getting down and dirty with the masters of BDSM. O.T. is her guide today, into the world of seductive bondage, rough corporal punishment, and intense sexual humiliation.

Gags aren't just a tool for control, they are a wonderful means of humiliation. Emma is going to know this better than anyone by the end of her session with O.T. It's a bit degrading having something wedge her mouth open like this. Any comfort she gains from being able to bite down is taken away knowing that if she has anything to say the metal in her mouth is going to to make it come out wrong. That's bad enough. But the drool is where things really go to the next level. It drips down the front of her body, leaving a trail of slime that is disgusting and humiliating. It gets everywhere and there is nothing she can do about it.

In typical bondage slut fashion this makes Emma dripping wet. The clamps that pull her pussy lips apart also show how ready to go she really is. Mr. Pogo pounds her pussy until she is literally screaming and creaming. Her orgasms are so intense they rock her body and leave her barely able to walk or talk.